New hAND Video!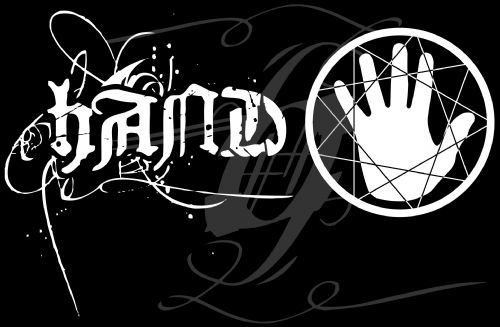 This is the official music video for their track Level One, taken from their third album Kintsugi.


A Moment Lost supporting FUNERAL FOR A FRIEND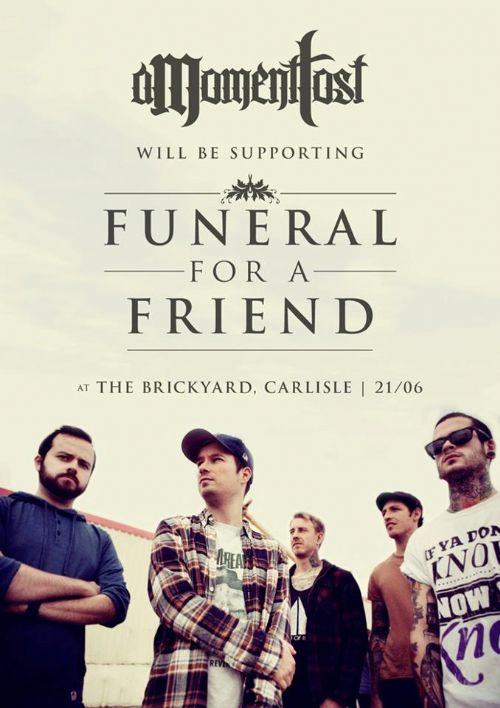 We are stoked to tell you that A Moment Lost will be supporting FUNERAL FOR A FRIEND at The Brickyard in Carlisle on the 21st June! They really cannot wait to share the same stage as one of their major influences, and they want to see as many of you as possible there!

They will also be uploading an unreleased song from our debut album "So Hold Your Breath" on their FB page shortly!
hAND Sign To Brutal Elite Records Ltd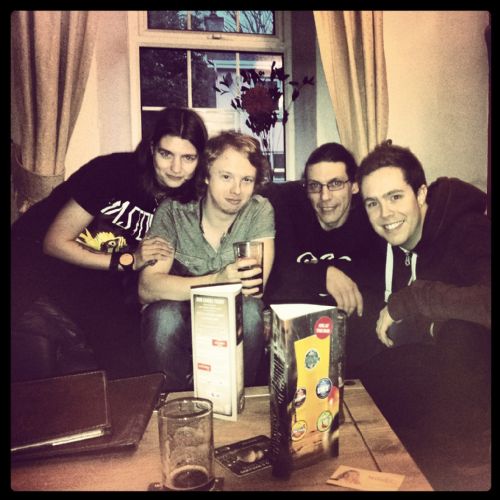 We are very proud to announce that UK prog-rockers hAND have signed to Brutal Elite Records for the release of their upcoming third album Kintsugi.

The four piece are due to head to Seriously Heavy Studios in July to begin recording the new album. After meeting up with producer Nick Hemingway the band excitedly wrote on their news feed, "After talking things over with Nick we can't tell you how hyped we are about this album; we reckon it is going to sound a bit different to the last two production wise, we have so many ideas already!"

Having digitally released their second album "Breathing" through Brutal Elite Records, the band felt it was a positive and natural progression to fully sign to the label. A free sampler of some of the bands previous work is available to download via handthe.bandcamp.com including demo versions of upcoming tracks.

More info about hAND can be found at handtheband.com
Fell On Black Days 'Talion" released worldwide today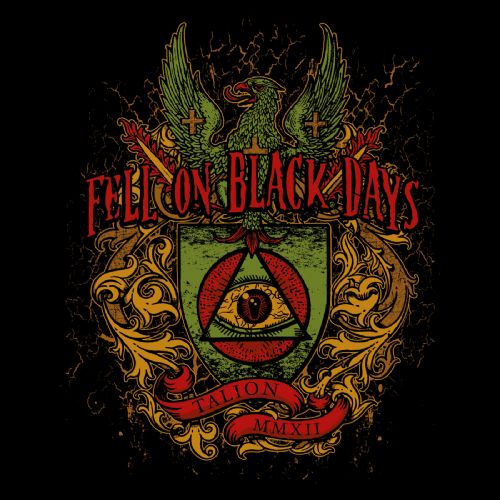 Brutal Elite are incredibly pleased and proud to announce that the fantastic debut album 'Talion' from Fell On Black Days is available on worldwide release from today.

"FOBD have thrown down the gauntlet to the other bands as they threaten to break away from the chasing pack with the Welsh metal album of the year" - Uber Rock

ORDER INFO:

HMV
A Moment Lost debut 'So Hold Your Breath' is now available to buy worldwide!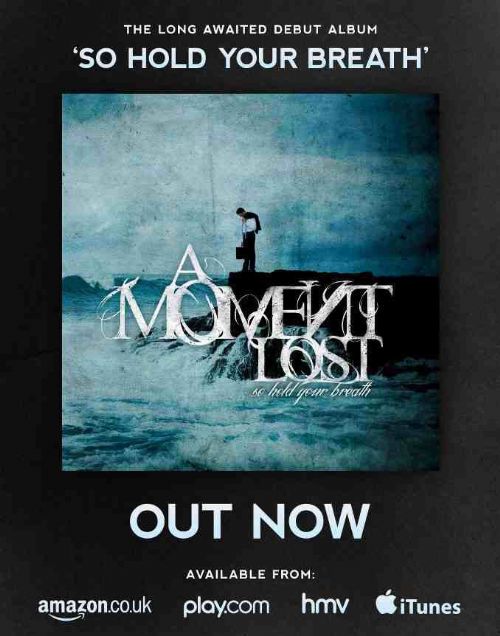 Allerjen make "Cannibal Corpse look like a wedding band" - Download 2012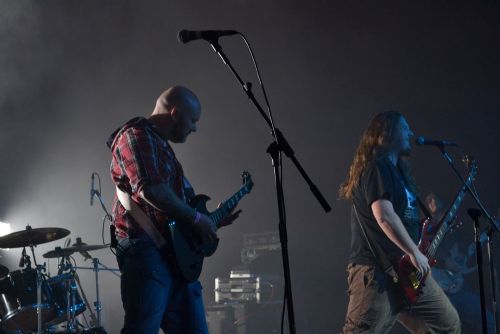 The tenth anniversary of Download started in style with this year's Boardie Takeover as Allerjen graced the stage of the country's premier rock festival. Here's what the official Download reviewer had to say about their performance.

"Having already played at festivals such as Damnation, frontman John Dower used his honed skills to barge the crowd into a frenzy in what is sure to be one of the bands career highlights."

"With shreds so vicious that they make Cannibal Corpse look like a wedding band, Allerjen's sublime energy really pushes the takeover up a notch or three."

"It was the best gig I've ever played," said Dower after the set. "Truly a great day for us."

Link To Official Review on Download Site
Allerjen to play the Boardie Takeover stage at DOWNLOAD FESTIVAL 2012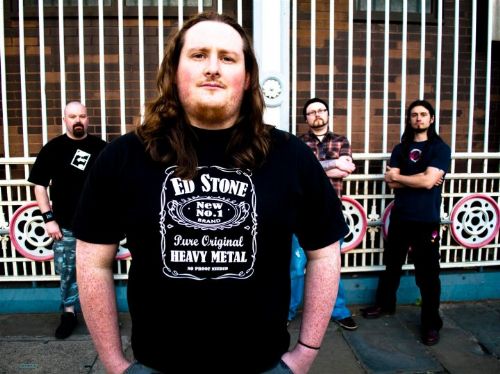 The mighty Allerjen will be unleashing their chaotic, genre busting material on the masses at the newly resurrected Boardie Takeover stage at DOWNLOAD.

In the tradition of bringing the best of the Boards to the Download Festival, Allerjen will be helping to bring the noise to The Village on Thursday 7th June. Live on stage at 7pm.

Link To Download Site

Fell On Black Days Update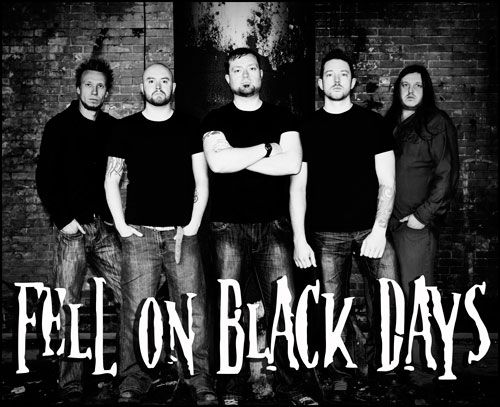 With the New Addition of Glenn Newbrook to Bass Duties, FoBD have now posted up their first dose of Gigs with Bands like Diamond Head, Evil Scarecrow, Stormbringer, Seven Deadly (Ex Panic Cell), Revoker, Lifer, Darksite. Also Live appearances confirmed at Beermageddon Festival (Derbyshire), Viking-Fest (Wales) & Uplands Music Festival (Wales).
Allerjen iPhone/iPad App in Apple Store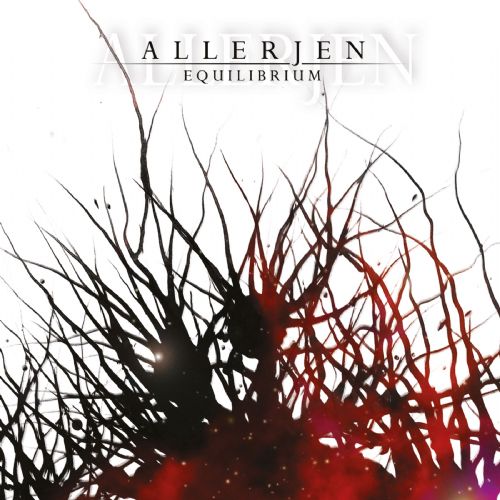 It's free, it's got an exclusive video, download it now...

Download Free Allerjen App Here
Darksite As The Line Divides – Released Worldwide Today!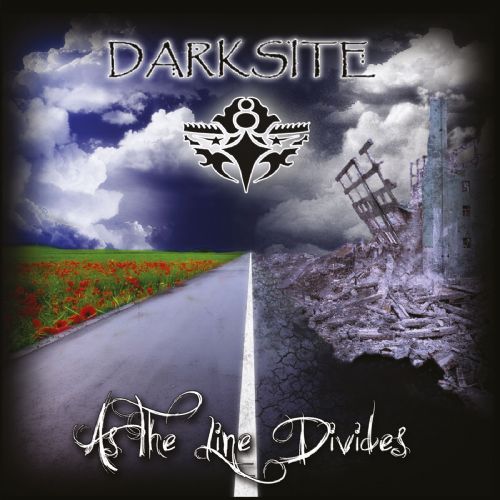 We are extremely pleased to announce that the incredible debut album from Darksite 'As The Line Divides' has been released worldwide today.

Here's what the press have been saying about Darksite's As The Line Divides

FIREWORKS – "Metal that blends the best of Pantera, Slipknot, White Zombie and Metallica"

BASEMENT SOUND –"Completely flawless"

ORDER INFO:

Amazon
Allerjen Equilibrium - Released Worldwide Today!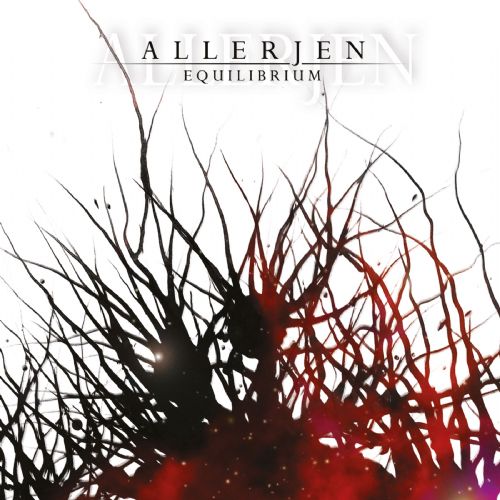 We are proud as hell to announce Allerjen's stunning second album 'Equilibrium' has been released worldwide.

Here's what the press have been saying about Allerjen's Equilibrium

TERRORIZER – "Allerjen pride themselves on having an original and varied sound, and with this their price is justified"

ROCK SOUND –" Complex, forward thinking metal……remains largely unique"

LOUD STUFF – "Allerjen have quite simply blown me away……it's been an experience which will stay with you and shape how you listen to things from here on"

HEVY PETAL – "it is a barrage of chugging riffs, rhythmic and tempo changes, technical legato guitar licks, and a sublime metal vocal delivery"

IS THIS MUSIC? – "It's the rare metal band than can liven up the tropes of the genre……Equilibrium achieved"

HOT DIGITS – "The sound is hard, heavy, brutal stuff"

METAL TEAM UK – "expect to have my rib cage flattened with their riffs"

ROOM THIRTEEN – "Allerjen may well not only catch your attention, but dig its talons in and hold on indefinitely"

METAL DISCOVERY – "there is enough variety in the riffs and general dynamic that you don't feel like you've heard all there is to hear by the half-way point"

LIVE MUSIC SCENE – "these guys deserve all the attention"

RINGMASTER – "fine release with an ingenuity and thrust that hits the sweet spot whilst bludgeoning the ear"

ORDER INFO:

Amazon - iTunes

Allerjen's on Kerrang! Radio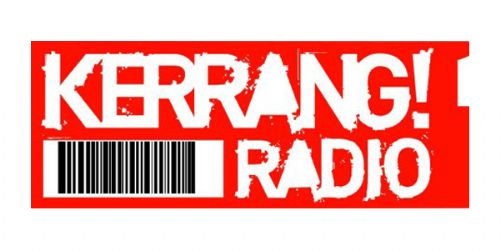 Allerjen's new track "Beyond The Promised Land" is getting airtime on Kerrang! Radio!

Please send requests for Allerjen to be played as often as possible to DJ Johnny Doom:-

Kerrang! Radio - 105.2 FM, Freeview & DAB

Go on folks! Worldwide domination is only a step a way for these lads with your help!
Darksite No 1 in UK MySpace Charts!

That's right folks, our very own South Walian metal monsters Darksite have reached the coveted No 1 spot in the Rock, Metal & Alternative UK Myspace charts and this is only with their demo!

The guys are currently preparing for the recording of their debut full length album in January 2011 for worldwide release through Brutal Elite Records at Philia Studios with renown metal producer Nick Hemingway.

After that, only world domination can possibly await!
ISOR's 3rd Album - Revisiting The Peep Show - Sneak Preview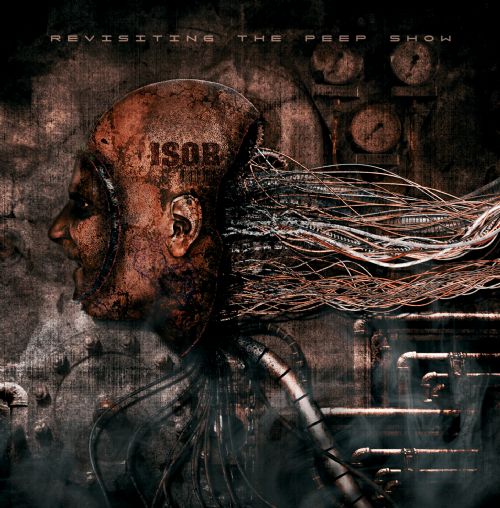 QuarterBlind on Terrorizer Fear Candy Cover Disk - Issue 202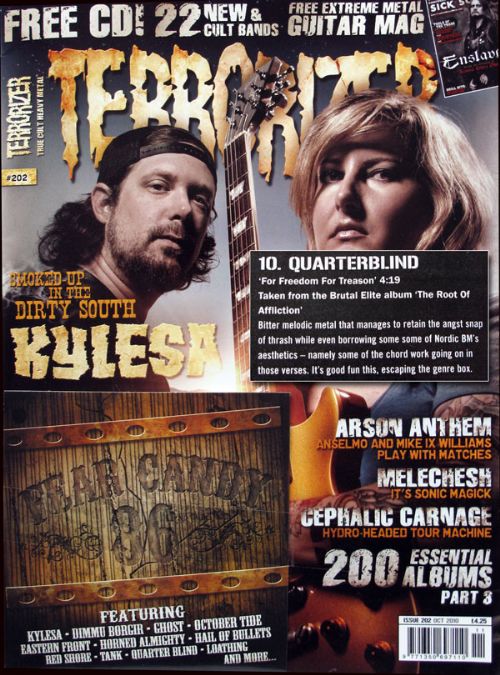 A free track from QuarterBlinds stunning second album 'The Root of Affliction' is on this months (Issue 202) Terrorizer Cover Disk.

It's in the shops now, so get down to your newsagents & pick it up...
A Moment Lost Sign To Brutal Elite Records Ltd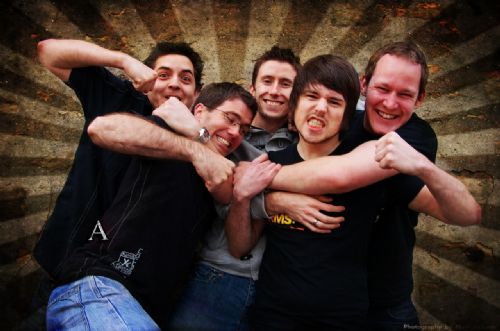 We are very proud to announce that upcoming hardcore hero's 'A Moment Lost' have signed to Brutal Elite Records Ltd.

From the small but bustling town of Kendal in the Lake District at the far North of England, this not so quiet 5 piece Metal/Hardcore band disrupt their quiet surroundings with a brutal yet incredibly catchy sound. Drawing influences from metal, hardcore, rock, classic rock, pop and even some obscure atmospheric sounds the result is a brilliantly fun, heavy as hell, good time hardcore show.

This sound is has musical composure as heard from bands such as Machine Head and KSE, blended well with the fun of hardcore acts such as Skindred & ADTR, all polished off with catchy chorus melodies and epic breakdowns influenced by legends such as Parkway Drive.

Despite all the musical similarities A Moment Lost stamp down their own unique blend of metal & hardcore which not only appeals to the elitist metal audience but appeals to the general metal mainstream as well as hardcore enthusiasts.
Fell On Black Days Sign To Brutal Elite Records Ltd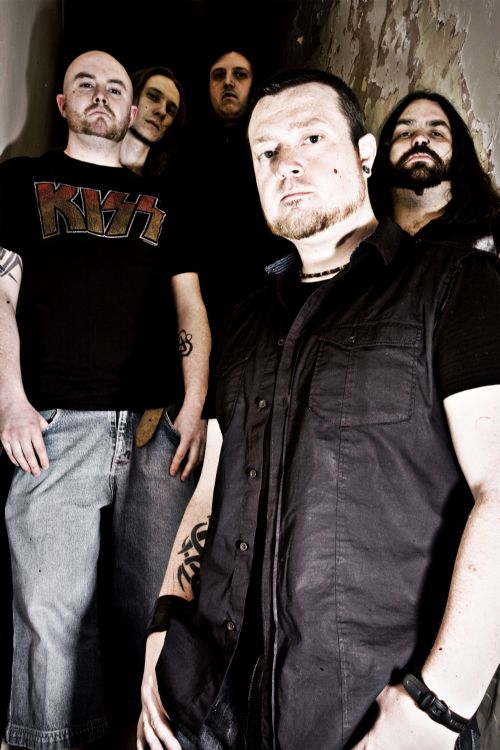 We are very proud to announce that upcoming metal hero's 'Fell On Black Days' have signed to Brutal Elite Records Ltd.

FoBD were born out of the depleted industrial settlement of Ebbw Vale, South Wales, UK in Late 2008. The songs are the sound of pain, regret, disappointment and the fear of what the future will bring us, all performed with hope and exhilaration.

FoBD have had the pleasure of sharing the Stage with great bands such as ONSLAUGHT, PANIC CELL, TRIGGER THE BLOODSHED, SACRED MOTHER TONGUE, TED MAUL, THE DEFILED plus many more upcoming Bands. Future Gigs have us supporting Beholder.

Fell on Black Days are a highly dedicated quintet that create a sound, with bone crushing riffs and pounding beats, that is both dominant and anthemic. Their aim is to deliver our music with the genuine intent and true passion that demands and deserves attention.
Allerjen sign to Brutal Elite Records Ltd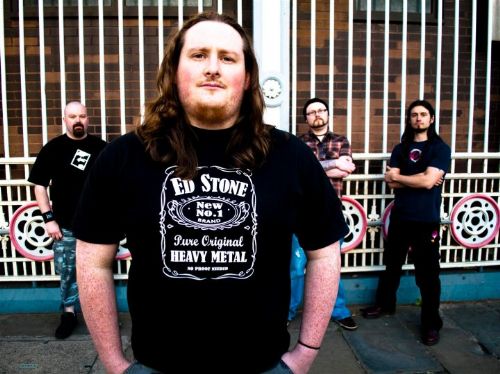 We are very proud to announce that metal stalwarts 'Allerjen' have signed to Brutal Elite Records Ltd.

Allerjen have striven to create their own unique sound, the band's creative spark and relentless energy can be seen in any of their performance.

The passion and enthusiasm that is produced on stage by the band is almost tangible.

Allerjen opened the main stage for the first ever 'Damnation Festival', Supporting the likes of Raging Speedhorn, Sikth, Entombed, Gorerotted, Gutworm and many more.

Since Damnation, Allerjen have shared the stage with giants such as Sepultura, Amen, Man Must Die, Biomechanical, Skindred, Khanate, Omnium Gatherum, Evile, Profane, Arnocorps, The Inbreds, Forever Never , even securing 7 dates in the North of England on FN's UK tour.

Allerjen are proof that an unwavering dedication to craft, and a pure artistic vision can result in a powerful musical statement.
Confined Within Confimed for Metal Heads Mission Festival 2010 (Ukraine)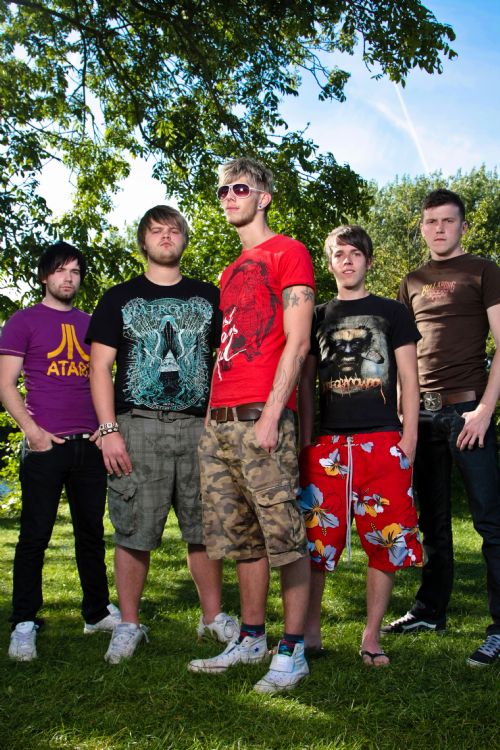 Upcoming metal hero's 'Confined Within' have been confirmed for the 2010 Metal Heads Mission Festival in the Ukraine.

Metal Heads Mission (MHM) is an annual music Metal Fest near Yevpatoria, Crimea, in the Ukraine. In 2010 the fest will have reached its eleventh year. It is organized by Ukrainain Brutal death metal band Mental Demise. It usually takes place in August, in the "Solnishko" recreational complex between Saki and Yevpatoria and lasts 3 days. The beach is literally 25 feet (7m) away from the stage. MHM is the largest Metal fest in the CIS, and an estimated 3000 metal heads flock to it annually.

Many legendary Heavy metal bands have played the fest such as Moonspell, Samael, Agnostic Front, Pro-Pain, Fleshgore, Napalm Death, Dead Infection, Cerebral Turbulency, Moonfog, Mental Demise, Suffocation, Benediction, Vader and Immolation.
QuarterBlind Sign To Brutal Elite Records Ltd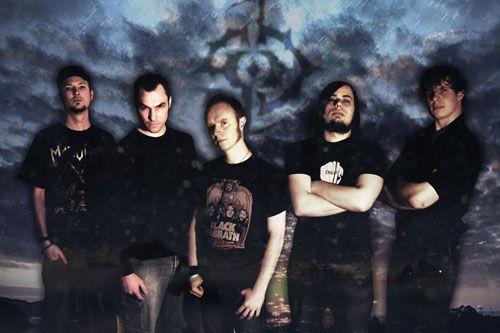 We are very proud to announce that metal monsters 'QuarterBlind' have signed to Brutal Elite Records Ltd.

QuarterBlind released their high impact debut album "Bleeding The Guilty" worldwide in 2007 and have never looked back since!

Gaining superb high profile reviews and an extensive gig list playing over 60 shows promoting their first album, sharing the stage with bands such as; Sylosis, The Defiled, Seven Year Kismet, OutCryFire, Speed Theory, Chaos Blood and Trigger The Bloodshed, moving onwards & upwards, the metal monsters are set to release their follow up album 'The Root Of Affliction'(BER002CD) worldwide through Brutal Elite Records on September 6th 2010.

Never tailoring their sound to fit with the scene, nor artificially trying to distance themselves from it, QuarterBlind consistently stand out from the crowd by combining infectious grooves, melodic hooks and an underlined darkness with an undefinable original quality.

QuarterBlind remain one of the most exciting bands in the UK and show no sign of slowing.

Brace for impact!
ISOR Sign To Brutal Elite Records Ltd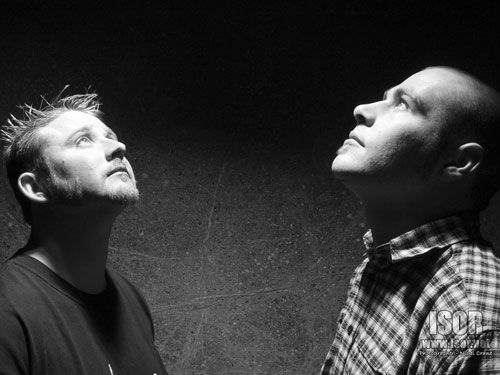 We are very proud to announce that mathcore legends 'ISOR' have signed to Brutal Elite Records Ltd.

ISOR have been brutalising the UK mathcore scene since they formed in 1999.

The duo released 2 full length albums worldwide through Copro Records; 'Post Mortem Peep Show' in 2004 & 'The Zebra Theory' in 2008.

They are currently in the studio re-recording their debut album 'Post Mortem Peep Show' for a release on Brutal Elite Records which will be titled 'Revisiting The Peep Show' and will feature 3 new bonus tracks along with re-recorded versions of the other 10 tracks taken from 'Post Mortem Peep Show'

When asked about their decision to re-record the band said, "It's so great to finally have the resources to record 'Post Mortem Peep Show' as we originally intended, we both love that album to bits, but the production style never suited it & it will be amazing to have that record exactly as we originally intended with our own personal instruments, sounds & not generic ones that were chosen for us, together with the heaviness & clarity that comes with a modern up to date recording..."

After hearing the new guitar tracks going down in the studio, we at Brutal Elite have to agree, we have heard that album thousands of times, but are now hearing notes & nuances for the very first time, and talk about heavy, my god, the guitar tone is devastating!

"Some of the parts sound so different now you can hear all the notes, we are a bit worried that fans will accuse is of changing the riffs, but we promise, that's how they have been played all along, you just couldn't hear them before (unless you were watching us live). But you are gonna love em even more now you can hear them properly!"

ISOR are also working on a brand new release containing 6 new tracks, that will be recorded & released worldwide in early 2010 on Brutal Elite Records.

ISOR have received massive critical acclaim gaining such comments as:-


"England's ISOR has made an album that restores my faith in the metal/hardcore genre.", "I haven't heard an album this creative in a long time. ISOR has only two members, but what these guys lack in numbers, they make up in sheer brutality. This album has to be the musical equivalent of being beaten with pool sticks and then set on fire.", "Nothing is overdone, and nothing is underplayed.", "I sincerely hope this is the future of metal/hardcore. There is literally something for everyone here...", "This album is superb, and I don't think there is a single song that is weak. ISOR has found the perfect blend of everything that is fun and angry about metal and hardcore alike. If you happen to be a fan of Drowningman, Deadguy, Converge, and the Dillinger Escape Plan, then you'll want to hear this album." - [85] Lambgoat - (USA)


"Incredibly fierce mathcore mentalness." METAL HAMMER - (UK)


"...the most exciting extreme metal album of this year.", "...Isor are f*cking incredible and this album will tear your head off. Absolutely bottom line essential!!" [4.5/5] WALLS OF FIRE - (Germany)


"Surely one of the greatest albums of this year 2004", "Buy! Buy! Buy this record!" SENSORIUM.IT - (Italy)


"...ISOR have landed as the saviours of the Brit metalcore scene.", "...A landmark debut release." [4/5] TELETEXT - (UK)


"ISOR show that a new generation is coming up from the undergrowth and challenging just what noise should be all about.", "'...Coping With Your Ginger Secret' and 'Swimming On Chief Brody's Day Off' aren't just witty titles, they've got the power to match." ROCK SOUND - (UK)


"...undoubtedly one of the most exciting metalcore debuts in recent times." [4/5] I ATE YOUR MICROPHONE - (USA)


"Two People? You'd imagine this music was created by an army.", "...the matter of relentless death-thrash touches the anti-matter of acoustic passages and emo undertows to create nullifying explosions..." TERRORIZER - (UK)


"...contains some of the most furious, chunky, pummelling riffage I've heard in ages! Go buy, right now." [9.5/10] ULTIMATE METAL - (UK)


"A brutal yet intelligent concoction of sounds '...Peep Show' is an extremely strong release and could be one of the biggest sounds of the metal core scene this year." SKRATCH THE SURFACE - (UK)


"...it's hard to imagine a more pressuring and crushing sound.", "This is how an ultra brutal bastard of the most extreme styles has to sound..." [9/10] THE METAL OBSERVER - (North America & Germany)


"...totally awesome sound and easily the best release I have heard this year..." AUDIOCRATIC - (UK)


"A band to be on the look-out for, and surely a worthy addition to any Extreme Metal or Hardcore festival!" [95/100] CONCRETE WEB - (Belgium)


"...pure genius ideas that retain a real freshness and innovation that a lot of bands don't possess." QUINTESSENCE - (USA)


"...arguably the best new metal sounds to come out this year." [4/5] ANEMIC MAGAZINE - (Australia)


"Fans of noisy, harsh, dissonant metalcore need this. Isor mix it up so well, and need your attention." RAW NERVE - (UK)


"...damn fine release and one that threw me totally with its ferocity, and this is definitely not to be missed...", "Recommended!" COLLATERAL DAMAGE - (UK)
Both videos taken from 'Post Mortem Peep Show' received regular rotation on many TV stations throughout the world, with the UKs SCUZZ TV & Australia's ABC (Australian Broadcasting Corporation) 'Rage' TV show being the most prolific and both videos can also be viewed online here:-

http://www.isor.net/Music.asp

Confined Within Sign To Brutal Elite Records Ltd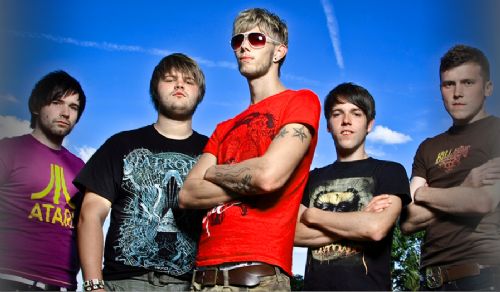 We are very proud to announce that upcoming metal hero's 'Confined Within' have signed to Brutal Elite Records Ltd.

The guys have been wowing audiences all over the country since they formed in Stafford in 2007 creating an infectious blend of melodic metal that's epic, fresh, and powerful whilst keeping in touch with the ever growing underground/hardcore scene.

Their monstrous debut E.P. 'World Stops Turning' (BER001) recorded by top metal producer 'Nick Hemingway' at the legendary Philia Studios will be released worldwide through Brutal Elite Records Ltd on the 5th of April 2010.

To get a sneak preview of the E.P. check out the bands myspace page :-

www.myspace.com/confinedwithinuk