ISOR have been brutalising the UK mathcore scene since they formed in 1999.

The duo released 2 full length albums worldwide through Copro Records; 'Post Mortem Peep Show' in 2004 & 'The Zebra Theory' in 2008.

They are currently in the studio re-recording their debut album 'Post Mortem Peep Show' for a release on Brutal Elite Records which will be titled 'Revisiting The Peep Show' and will feature 3 new bonus tracks along with re-recorded versions of the other 10 tracks taken from 'Post Mortem Peep Show'

ISOR appeared on numerous Magazine Cover CD's including Metal Hammer, Terrorizer & Rocksound

Both videos taken from 'Post Mortem Peep Show' received regular rotation on many TV stations throughout the world, with the UKs SCUZZ TV & Australia's ABC (Australian Broadcasting Corporation) 'Rage' TV show being the most prolific and both videos can also be viewed online Here

'Coping With Your Ginger Secret' was also used on the soundtrack of the cult horror movie 'Infestation'.

ISOR toured extensively to promote 'Post Mortem Peep Show' with over 110 live shows including a "Rocksound Tour" and are currently planning 'The Zebra Theory' tours that will hopefully include US & Australian dates as well as UK & European shows.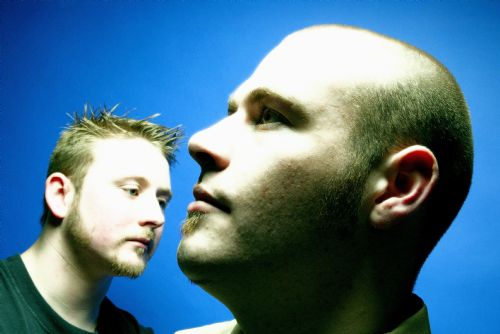 | | |
| --- | --- |
| Guitar & Vocals | Dave Merricks |
| Drums & Backing Vocals | Nick Hemingway |
Press
ISOR have received massive critical acclaim gaining such comments as:-




"Englandís ISOR has made an album that restores my faith in the metal/hardcore genre.", "I havenít heard an album this creative in a long time. ISOR has only two members, but what these guys lack in numbers, they make up in sheer brutality. This album has to be the musical equivalent of being beaten with pool sticks and then set on fire.", "Nothing is overdone, and nothing is underplayed.", "I sincerely hope this is the future of metal/hardcore. There is literally something for everyone here...", "This album is superb, and I donít think there is a single song that is weak. ISOR has found the perfect blend of everything that is fun and angry about metal and hardcore alike. If you happen to be a fan of Drowningman, Deadguy, Converge, and the Dillinger Escape Plan, then you'll want to hear this album." - [85] Lambgoat - (USA)


"Incredibly fierce mathcore mentalness." METAL HAMMER - (UK)


"...the most exciting extreme metal album of this year.", "...Isor are f*cking incredible and this album will tear your head off. Absolutely bottom line essential!!" [4.5/5] WALLS OF FIRE - (Germany)


"Surely one of the greatest albums of this year 2004", "Buy! Buy! Buy this record!" SENSORIUM.IT - (Italy)


"...ISOR have landed as the saviours of the Brit metalcore scene.", "...A landmark debut release." [4/5] TELETEXT - (UK)


"ISOR show that a new generation is coming up from the undergrowth and challenging just what noise should be all about.", "'...Coping With Your Ginger Secret' and 'Swimming On Chief Brody's Day Off' aren't just witty titles, they've got the power to match." ROCK SOUND - (UK)


"...undoubtedly one of the most exciting metalcore debuts in recent times." [4/5] I ATE YOUR MICROPHONE - (USA)


"Two People? You'd imagine this music was created by an army.", "...the matter of relentless death-thrash touches the anti-matter of acoustic passages and emo undertows to create nullifying explosions..." TERRORIZER - (UK)


"...contains some of the most furious, chunky, pummelling riffage I've heard in ages! Go buy, right now." [9.5/10] ULTIMATE METAL - (UK)


"A brutal yet intelligent concoction of sounds '...Peep Show' is an extremely strong release and could be one of the biggest sounds of the metal core scene this year." SKRATCH THE SURFACE - (UK)


"...it's hard to imagine a more pressuring and crushing sound.", "This is how an ultra brutal bastard of the most extreme styles has to sound..." [9/10] THE METAL OBSERVER - (North America & Germany)


"...totally awesome sound and easily the best release I have heard this year..." AUDIOCRATIC - (UK)


"A band to be on the look-out for, and surely a worthy addition to any Extreme Metal or Hardcore festival!" [95/100] CONCRETE WEB - (Belgium)


"...pure genius ideas that retain a real freshness and innovation that a lot of bands don't possess." QUINTESSENCE - (USA)


"...arguably the best new metal sounds to come out this year." [4/5] ANEMIC MAGAZINE - (Australia)


"Fans of noisy, harsh, dissonant metalcore need this. Isor mix it up so well, and need your attention." RAW NERVE - (UK)


"...damn fine release and one that threw me totally with its ferocity, and this is definitely not to be missed...", "Recommended!" COLLATERAL DAMAGE - (UK)
Videos
ISOR Links






Endorsements
Copyright 2009-2015 Brutal Elite Records Ltd. All Rights Reserved.
Registered in England & Wales No. 07089564
VAT Registration No. 980 8475 76